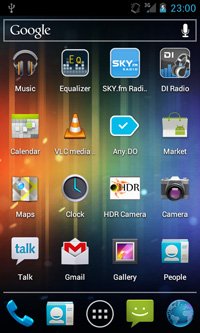 Finally! In version 4 of Android there is a simple clean way of taking screenshots. No more custom ROMs and no SDK equipped computer required.
Simply hold down Volume Down and Power button and you will see the screen capture animation.
It's not as instantaneous as it is on iOS, you may have to hold the buttons down a second or two. (I think this is intentional to prevent accidental screenshots) The photo PNG file will be saved into a screenshot album in the Gallery. From then on you can easily share the file to other apps. You can then find your screenshots in the /Pictures/Screenshots/ folder.
Enjoy.