Why doesn't the Galaxy Nexus appear as a removable disk on a Mac?
Before Android 3.0 devices typically divided their storage into two separate partitions, a system partition and a media "SD Card" partition. When a device was plugged into a computer, it would mount the second SD card partition using USB Mass Storage, just like a regular flash drive. With newer versions of Android, manufacturers have the option to use just one big partition for everything, which is convenient for the user of the device, but slightly complicates computer connectivity. The Galaxy Nexus is the first phone to follow this model, and you can bet other phones will too in the future. Devices with SD card slots will continue to use USB Mass Storage for SD card file transfers.
Instead of using good old USB Mass Storage protocol, the Galaxy Nexus employs the Media Transfer Protocol (MTP) for file transfers. While Microsoft Windows users will likely not notice the change, MTP doesn't work out-of-the-box on macs. A third party app is needed.
Here are three options for getting files to and from the Galaxy Nexus on a mac:
Option #1: Android File Transfer app for Mac
This is very straightforward, plug the phone in with a USB cable, and fire up the app supplied by Google. Required Mac OS X 10.5 or later. Easy to use interface that looks a lot like Finder, and fills the missing MTP compatibility.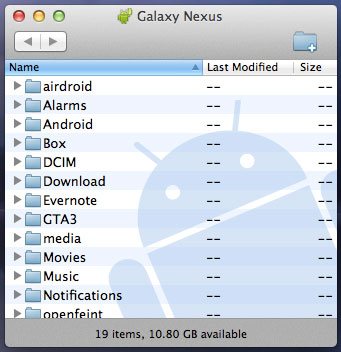 Option #2: AirDroid app
Want to skip the USB cable altogether? AirDroid is a very clever Android app that lets you manage your device through a web browser on a computer through Wi-Fi. Get the AirDroid app from the Android Market, connect to the same Wi-Fi network as your computer, run the app and follow the instructions.
AirDroid runs a web server on the phone that you can connect to from a computer. It lets you manage files and apps wirelessly. As an added bonus you can send and receive text messages right from the browser.
At the time of this post AirDroid is in beta, and it's free.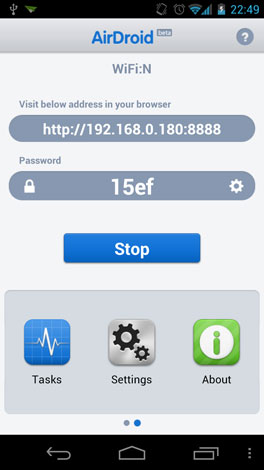 Option #3: Google Music streaming
Google Music is a cloud streaming service for Android (and web) that will let you upload 20,000 of your songs into "the cloud" and listen to them on the phone over your data connection. Music purchased though Google Music will appear in there automatically. You will need to download and install Google's Music Manager app onto your computer, and upload your music. While this is very handy if you can't fit your music into your phone, you need to have a generous data plan allowance for this to work. Also uploading your entire music collection into the cloud may take a while.